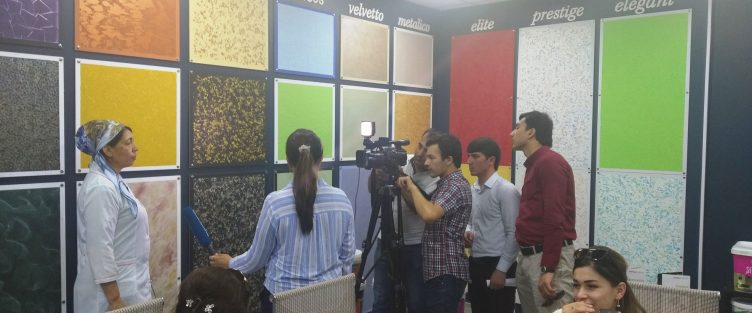 Journalists from the republican televisions and print publications and online sources made a press tour to free economic zones of Tajikistan. The Ministry of Economic Development and Trade of the Republic of Tajikistan organized the press tour. The goal of the tour was to demonstrate the results of the activities of Tajikistan's leading FEZs and introducing the innovations and achievements that they have today.
On July 18, journalists arrived in the Sughd FEZ. The first enterprise they have visited was Ariana Metal Plastic engaged in production of children's toys, which was launched solemnly in October 2018. Now the company produces children's bicycles, strollers, walkers, cars, plastic dressers, which are gradually displacing Chinese imported counterparts from the local market. In the first half of this year, the production volume of the company reached 8 million TJS. According to the director of the company Dilorom Umarova, they do not intend to stop at what has accomplished in Ariana Metal Plast. In order to diversify the range of products, the company plans to produce various plastic household products.
Then the journalists were acquainted with the activities of the paint and varnish company Silkoat boya. The leading Tajik-Turkish enterprise produces about 120 types of products for facade and interior decoration of buildings. Products sold throughout the country, as well as exported to the countries of Central Asia. Now, the negotiations are underway to supply products to the Russian market.
Also, representatives of the Mass media visited the factory for the manufacture of PVC window profiles Ravzana Plastik, where the director of the company Ilhom Sangin told about the history of one of the first subjects which believed in the prospect of the FEZ. Now the company consistently supplies high quality certified products under the MANZIL trademark to the Tajik market.
The final point of the press tour were the enterprises of Archa and Archa Mebel, which advanced in the wood processing industry of Tajikistan by producing quality products at affordable prices. The journalists visited the exhibition complex, where a large assortment of products manufactured by enterprises are represented – wooden doors and windows, furniture for preschool, educational, administrative, medical institutions, furniture for the home, office and much more. The products of the enterprises were nominated for the best product of the year. A Chairman of the Board of Directors Mr. Narzullo Dadoboev shared with journalists the information about the company's development strategy and plans.
On July 22, the press tour will continue its excursion in the Khatlon area, Dangara FEZ.
Read More